The accomplishments of women are never heralded enough and the team at Isadora Nim have put together a series of blogs on strong women we admire.
The first on our list is Christine Lagarde, the pant-suit loving Frenchie who has the small task of being in charge of the world's economy.
Lagarde's CV is full of firsts; the first woman to become finance minister of a G8 summit, the first woman to head the IMF, the first chairwoman of international law firm Baker and McKenzie, the first woman ever in charge of economic policy in France. We could go on.
Christine Lagarde hit the Forbes top 10 most powerful women in 2014-2016 for her role as Managing Director of the International Monetary fund. For those of us who aren't sure (thanks Google…) the International Monetary Fund look after all the cash. They promote financial stability and cooperation between all 189 member countries. When shit hits the fan (a.k.a. the global financial crisis or the debt fiasco in Greece) they try to figure it out. So yeah, Lagarde is pretty damn powerful in our eyes.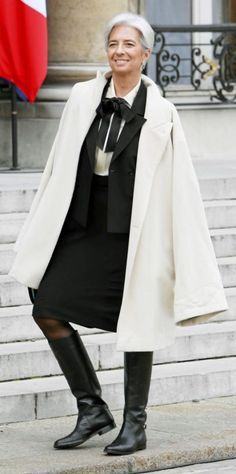 She is a passionate defender of women's equality and plans to break up the boys club of the IMF with more gender balance. Amen.
Lagarde has an amazing sense of style, owning her suits with poise and purpose. When asked by Vogue about her secret to being so effortlessly elegant all the time, she credited Chanel and wearable suits. We agree with you there sista.